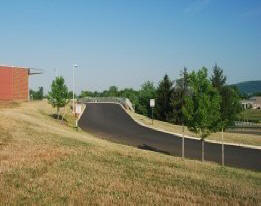 Civil engineering is all about overcoming challenges and obstacles through problem solving and consideration. DRH Engineers PLC leverages experience and technology to plan and execute civil engineering projects of all types, while remaining adaptable and agile as the project evolves. As a result, we're well-known for cost-effective, comprehensive civil engineering in Warrenton, VA.
We approach every civil engineering opportunity from a multi-disciplined perspective, to ensure projects proceed smoothly, on time and within our client's budget. The result is always an attractive, marketable, successful result.
Civil Engineering Experience
Our wide breadth of experience enables us to be an all-in-one civil engineer in Warrenton, VA, providing clients with all of the critical services and oversight needed to progress a project forward. Our experience includes all of the following in-demand projects:
Commercial Pad Site & Centers
Industrial Pad Sites
Feasibility Studies
Road & Street Design
Storm Drainage & Storm Water Management
Grading & Erosion Control
Water & Sewer Utilities


Land Surveying
With a surveying team that's backed by more than a century of combined experience, we're the foremost experts when it comes gleaning information about a development site. We put our refined expertise and modern technologies to work for you, gathering the crucial information needed to better qualify your civil engineering projects. Our land surveying abilities include:
Boundary Survey
House Location/Mortgage Survey
Wall Check Survey
Setback Certification
Metes & Bounds Descriptions
Proposed Additions/Improvement Survey
Property Line Stakeout
Special Exception
Simple/Administrative/Minor Subdivisions
Major Divisions
Condominium Plats
Alta Survey
Construction Stakeout
As-Built Survey
Horizontal/Vertical Control
Test Pit/Boring Location
Elevation Certificate
Easement Plats
FAA Tower Survey -2C Elevation Certificate
Drainfield Plat
Utility Location
Traffic Signalization Survey
Grading Plans
Feasibility Study
Family Divisions
Boundary Line Adjustments/Consolidations
Topographic Survey
Right-of-Way Dedication
House/Building Stakeout
GPs Control
To get started planning your next civil engineering venture or for insight into our land surveying capabilities, please contact DRH Engineers PLC today at 540-349-7840.